OUT OF CONTROLL IN VENICE - #OOCV
Biennale di Venezia 2017, Icelandic Pavilion
2017 | animated projection mapping and social media clips
installation I 15'00' I 6x7m I colour I 2D animation, stop motion, life footage
10 Social Media Clips I each about 01'00'' I HD | 1:1,77 | colour I digital 2D on life footage Courtesy by the artist Egill Sæbjörnsson and i8 gallery.

"Out Of Controll in Venice" is a video installation piece for the Biennale di Venezia 2017 by the Icelandic artist Egill Sæbjörnsson. Monströös was commissioned to do the animated part of the installation, a 15-minute projection loop picturing the dialogue between two gigantic trolls named Ugh & Booghar. The animation mixes several techniques such as stop motion, experimental animation and 2D to create a rich and interesting visual style. To promote the piece 10 animated Clips for Social Media Channels were produced, showing the Trolls Ugh & Booghar as 2D-animated characters on life video footage from Venice.

"Out Of Controll in Venice" ist das Kunstwerk des isländischen Künstlers Egill Sæbjörnsson für die Biennale di Venezia 2017. Monströös war verantwortlich für die Erstellung der Animation, ein 15-minütiger Dialog zwischen den zwei riesigen Troll-Gesichtern Ugh & Booghar, die auf die Installation im isländischen Pavilion projiziert wurde. Monströös arbeitete dabei mit verschiedenen Techniken wie Stopmotion, experimentelle Animation und 2D-Zeichentrick um ein haptisch reiches Bild für die zwei 12qm großen Projektionsflächen zu erschaffen. Darüberhinaus entstanden 10 animierte Clips, die die Trolle als Zeichentrickcharaktere in real gedrehte Aufnahmen von Venedig zeigen, um die Installation der Trolle auf Social Media Kanälen anzukündigen.
CREW
artistic direction: Egill Sæbjörnsson (http://egills.de)
animation direction: monströös
music & sound: Egill Sæbjörnsson
production: monströös in collaboration with Egill Sæbjörnsson and the Icelandic Art Center (https://icelandicartcenter.is/)
Production assistance: Manuel Stotzka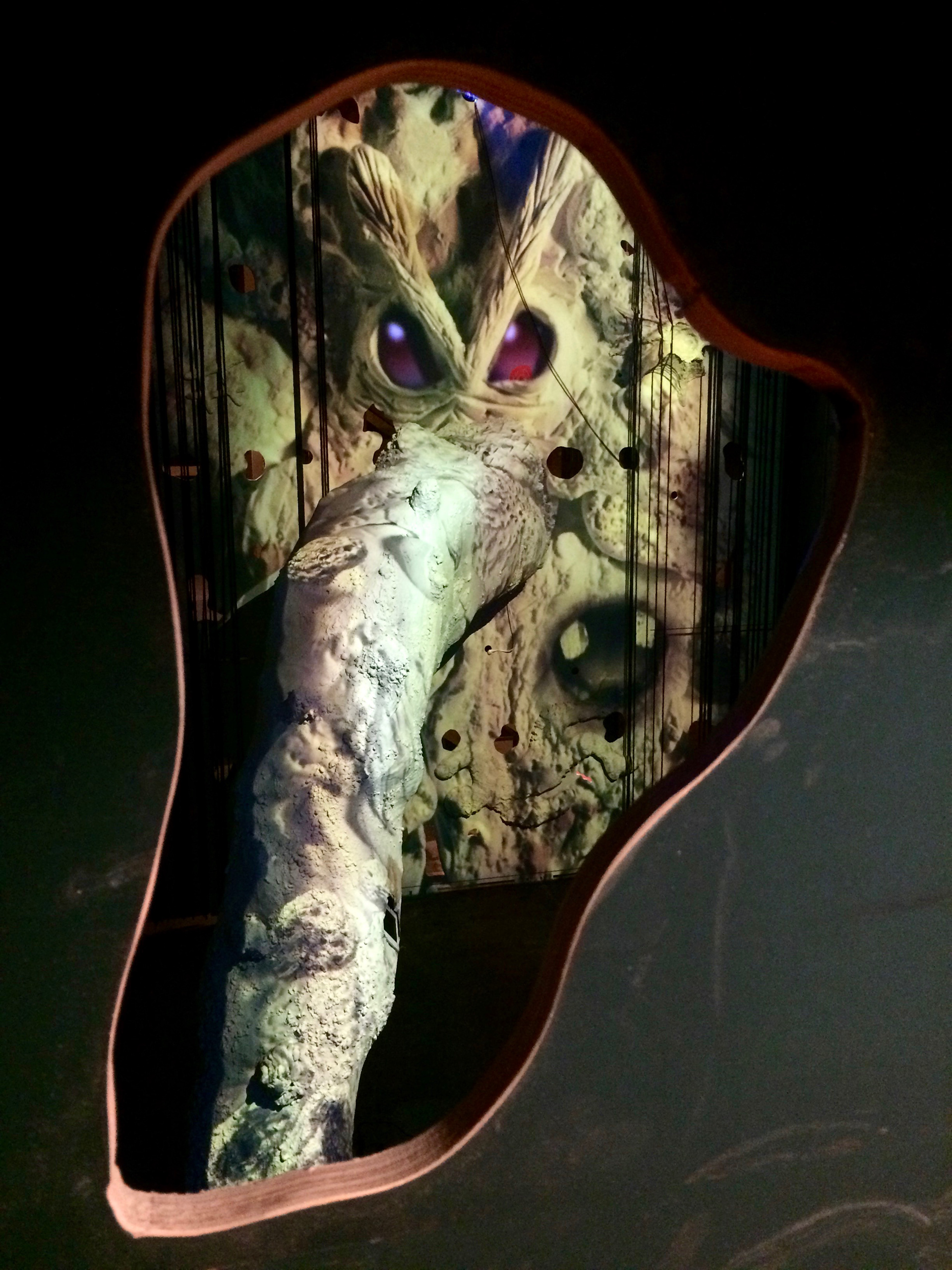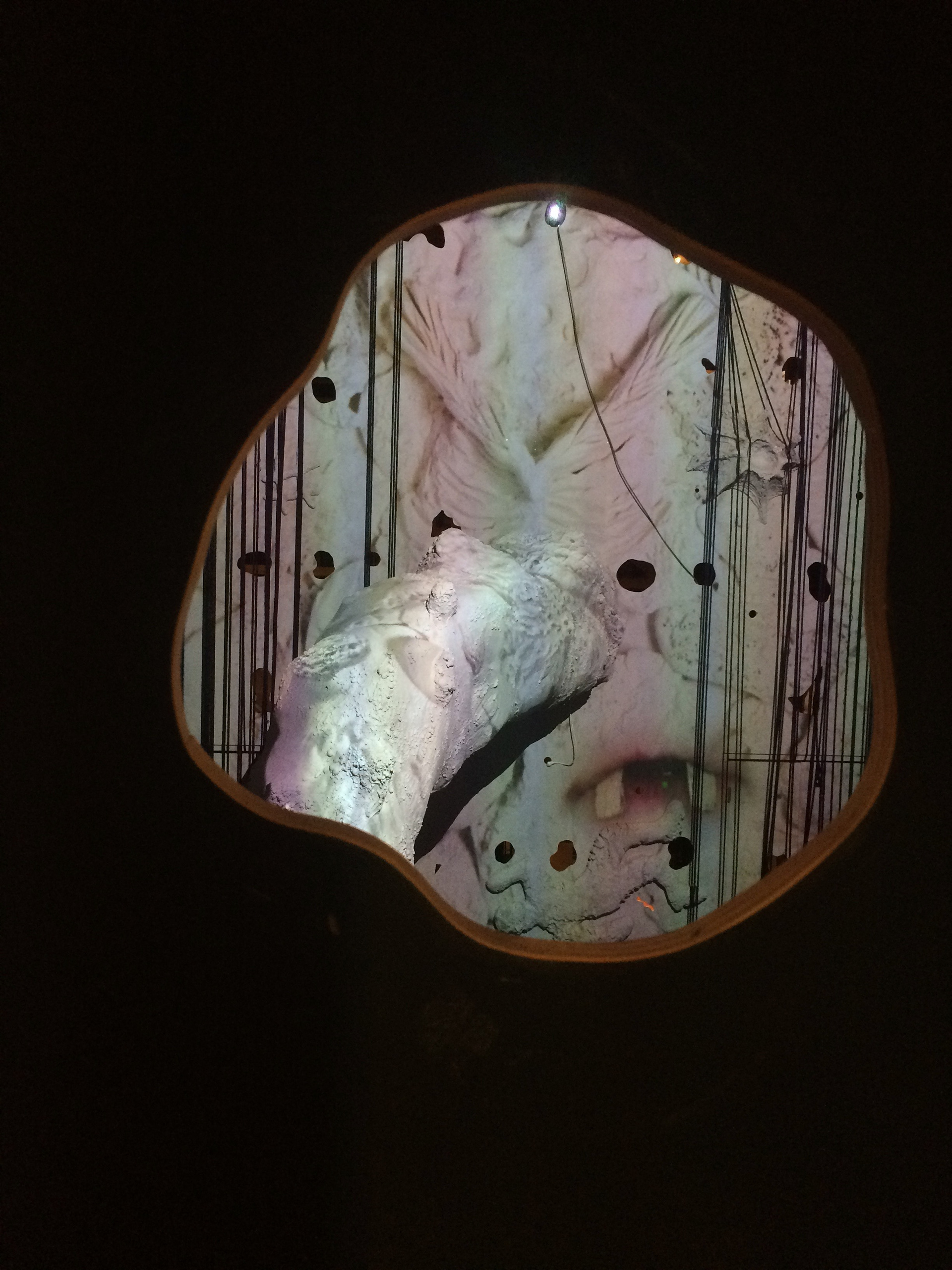 ANIMATED PROJECTION Icelandic pavilion, Biennale 2017 : 15 minute animation loop on two walls

#OOCV - Production process
In the installation "Out Of Controll in Venice" by Icelandic artist Egill Sæbjörnsson you can
experience the dialogue of the Trolls Ugh & Booghar and watch them eat tourists
while you move freely in the piece: a wooden construction of the heads of the trolls.
The talking troll faces are projected as animation onto two opposing 12qm high wooden screens. The construction behind the screens has several levels and thus allows the visitor to climb into the heads of the trolls so she/he can watch the animation from different angles. Monströös animated a projection loop of 15 minutes for every Troll face aswell as cut-scenes in-between. The look of the animation and the character design of the trolls was developed beforehand together with Egill and is based on his existing artworks and script of the piece. Initially we had a lot of fun playing around with different techniques to see what would fit style wise and would be better for the storytelling. To check if images or compositions would work we projected them directly onto a small scale model in Egill's studio in Berlin. Once the animatic was complete, the troll voices were recorded and the animation process started. The troll faces were created with clay in stop motion animation using different lights and shot underneath a camera. Narrative Cutscenes in-between were animated digitally in TVPaint. The most exciting part of the project was to take place in Venice: finalizing the animation in full scale on the original piece (about seven times bigger than the model). Mareike and Rike worked one month on site to set up the projection: mask out shapes, skew the images according to the projectors, animate some more and finally composite all together.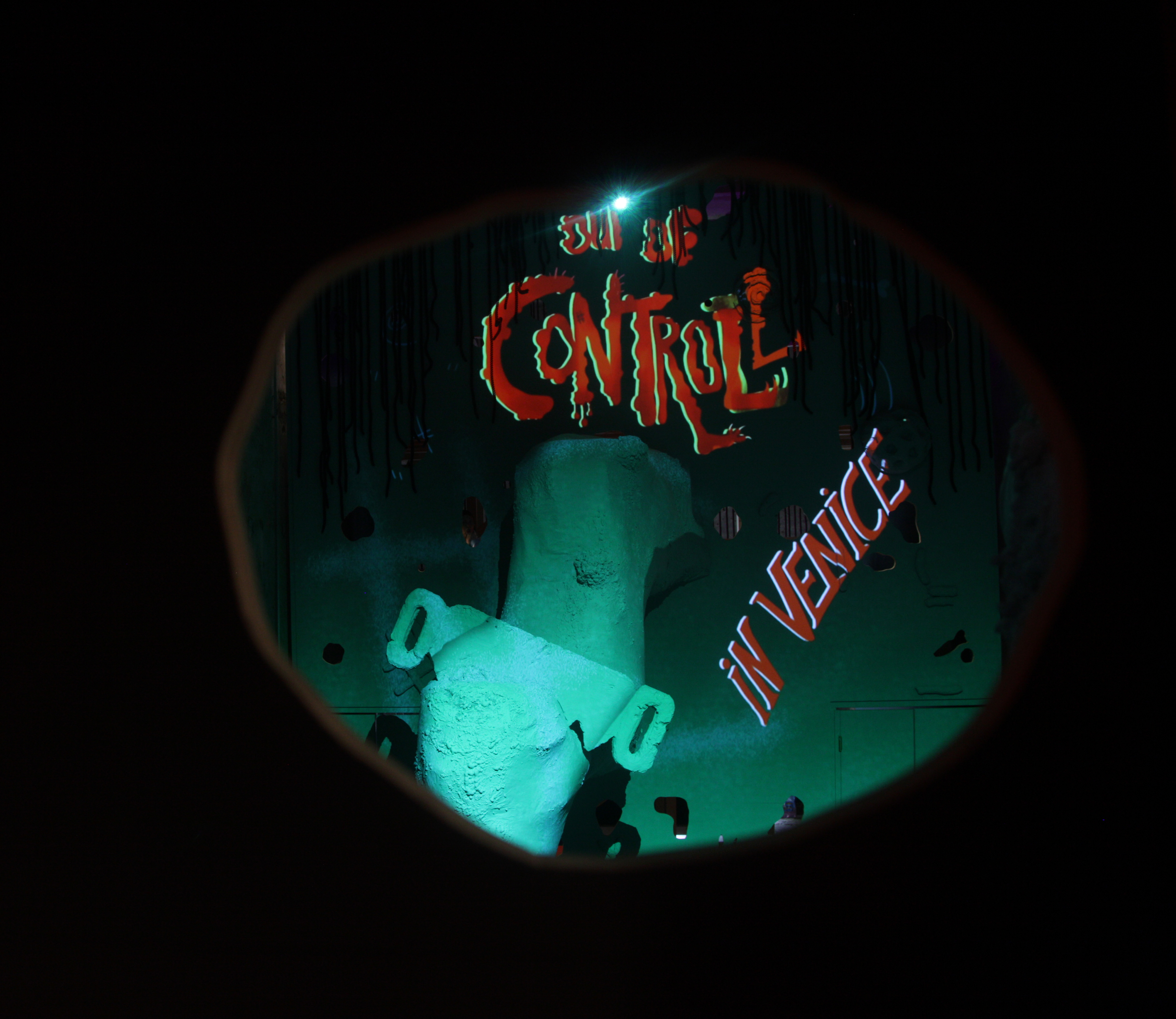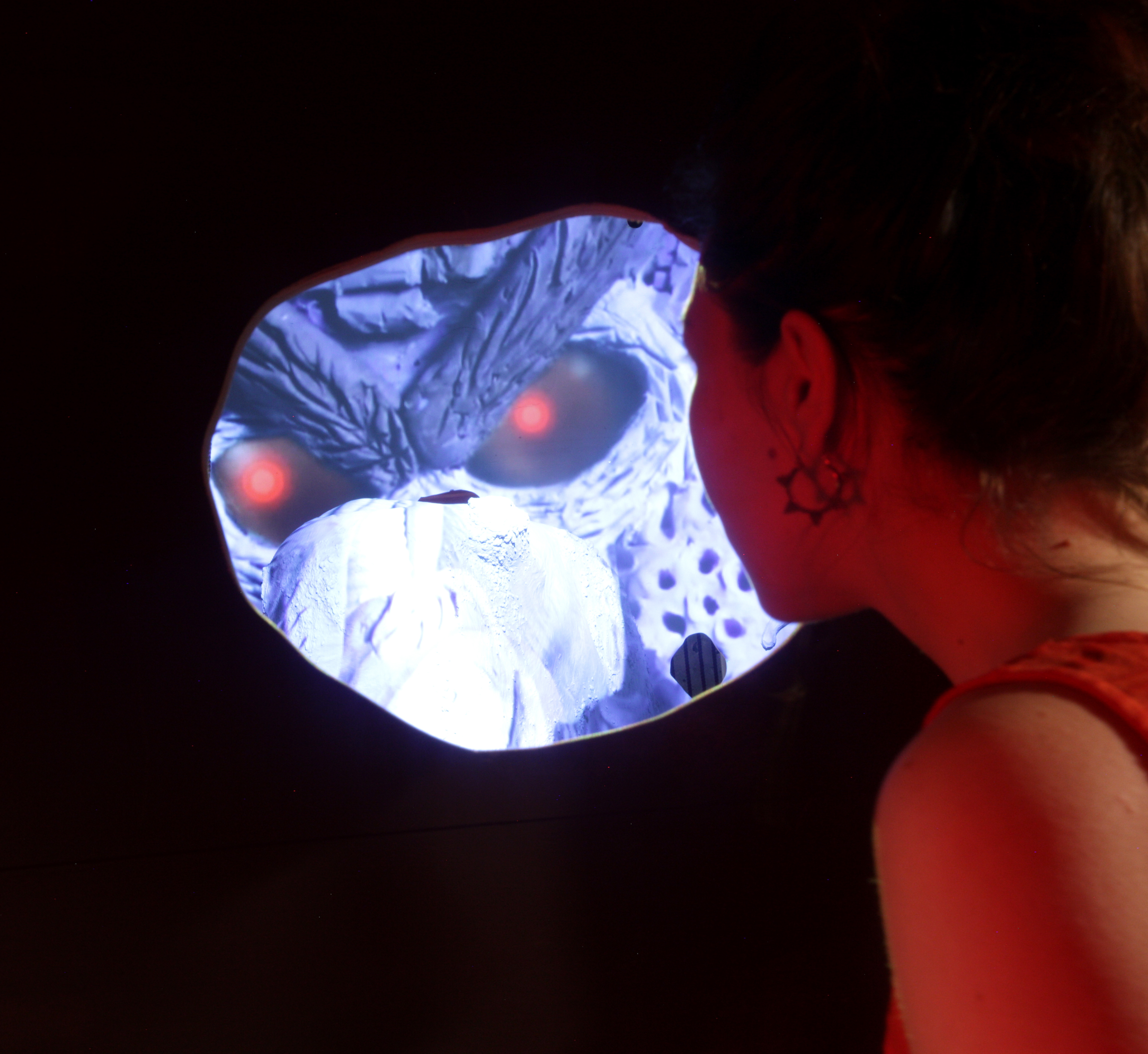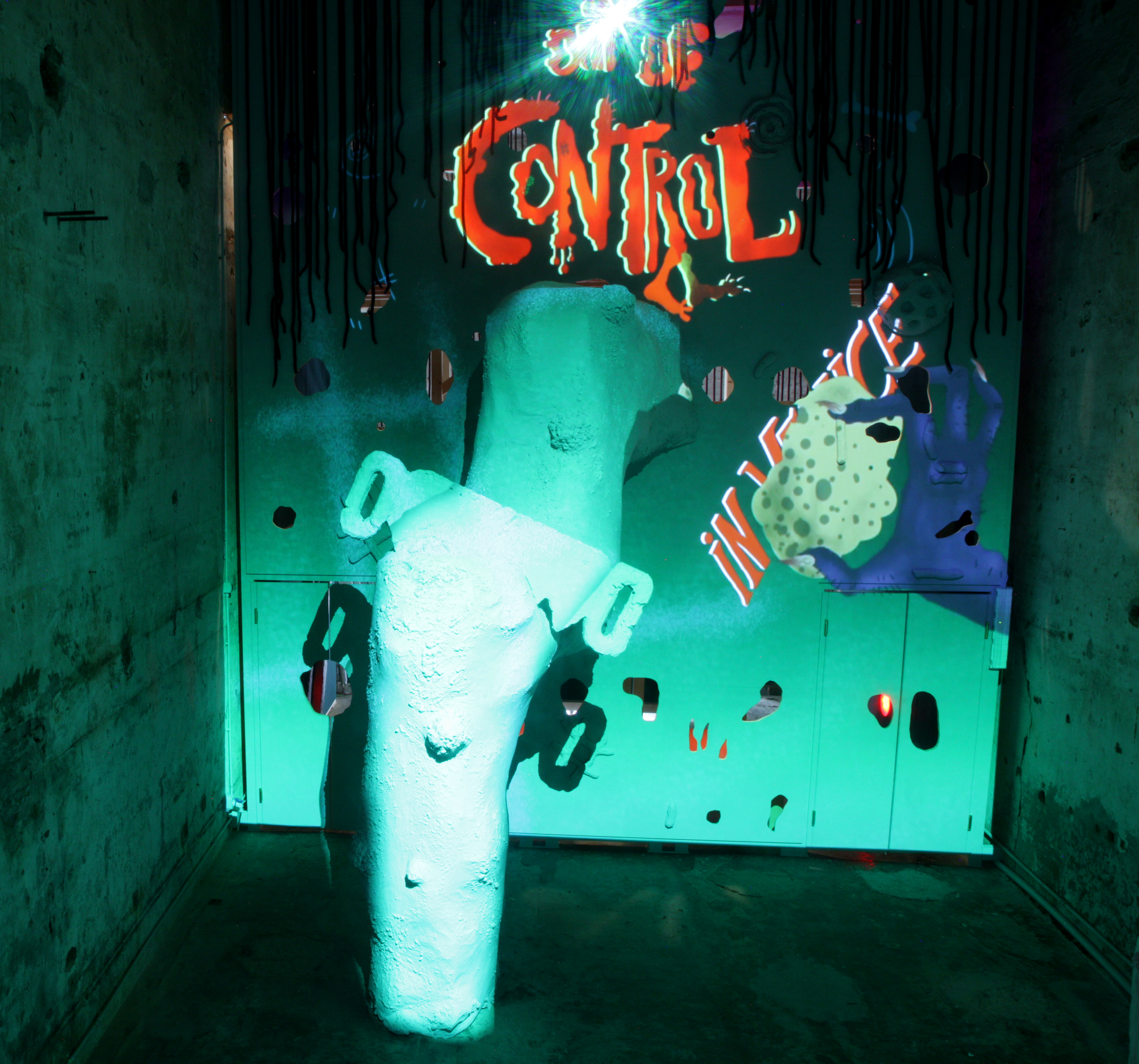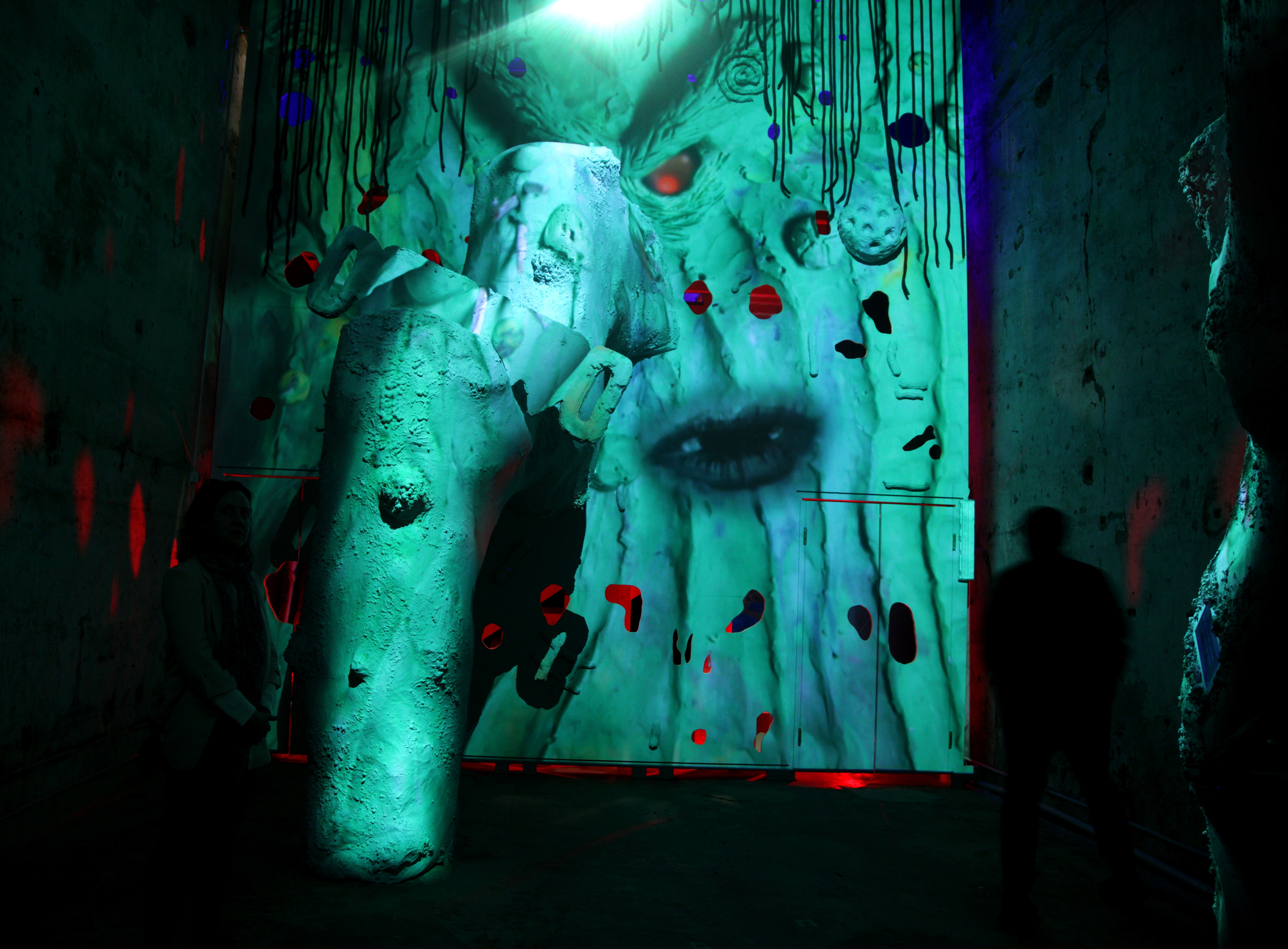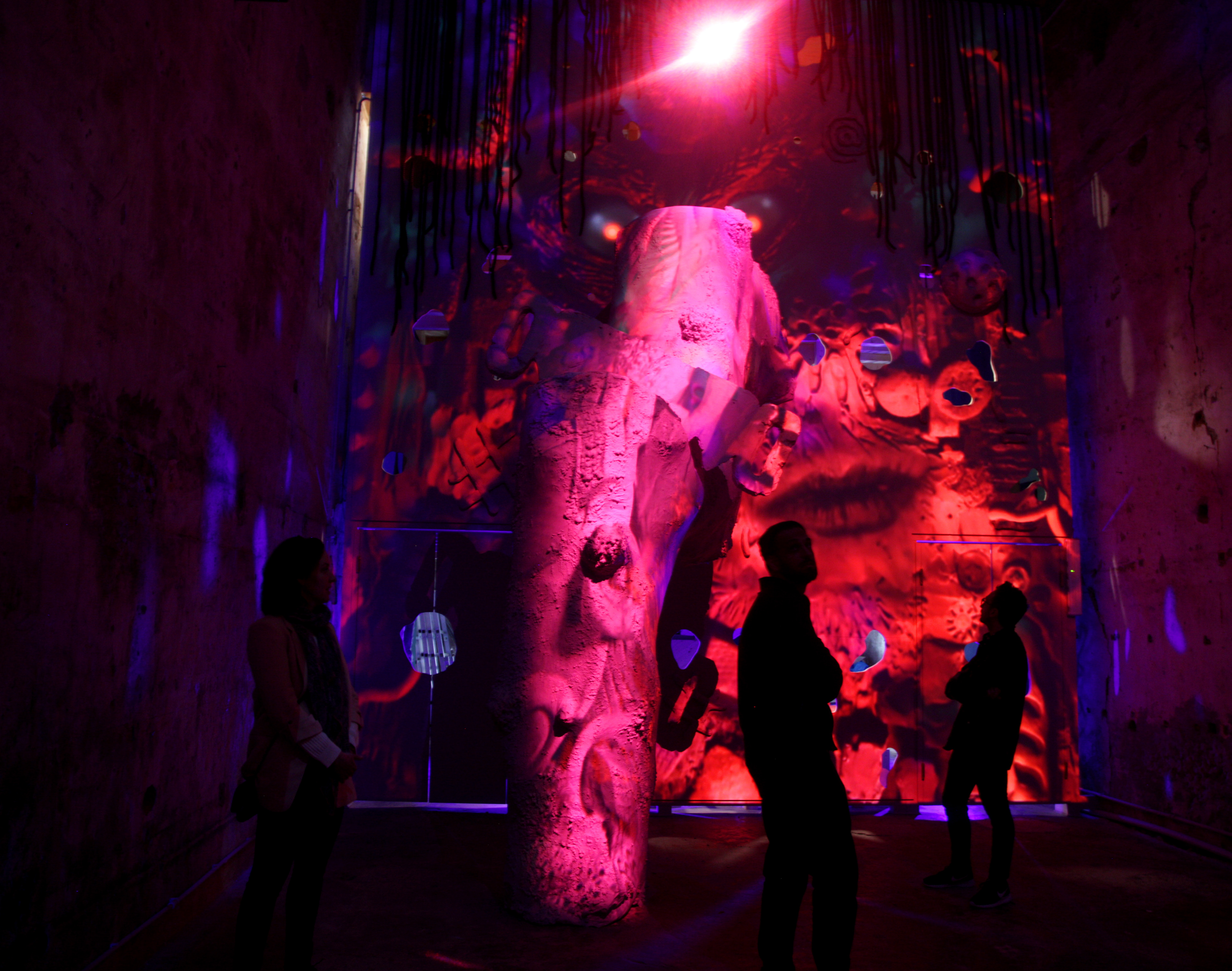 In der Installation "Out Of Controll in Venice" vom isländischen Künstler Egill Sæbjörnsson wird der Besucher eingeladen den Dialog der großen Trolle Ugh & Booghar zu erleben. Man hört sie reden, kann sie beim Touristen fressen beobachten oder direkt in ihren Kopf klettern. Die sprechenden Troll-Gesichter wurden auf zwei 12qm große gegenüberstehende Holzwände projiziert, eine mehretagige Holz-Konstruktion dahinter erlaubt es, die Animation von verschiedenen Winkeln zu betrachten. Monströös hat für jedes Troll-Gesicht einen 15 minütigen Projektions-Loop mit Dialog und narrativen Cut-Scenes animiert. Im Vorfeld haben wir in enger Zusammenarbeit mit Egill den Look der Animation und das Design der zwei Trolle auf Grundlage seiner Zeichnungen und Texte entwickelt. Auf der Suche nach der passenden Animations-Technik wurde von uns experimentiert und direkt auf einem kleinen Modell der Trollköpfe in Egills Studio in Berlin getestet. Als endlich das visuelle Konzept zur gesamten Projektion erarbeitet war, konnten wir die Trollstimmen aufnehmen und mit der Umsetzung der Animation loslegen. Die Troll-Gesichter wurden mit Knete in Stopmotion-Technik animiert und per Foto-Kamera aufgenommen. Narrative oder abstrakte Zwischenszenen wurden digital mit der Software TVPaint gezeichnet. Spannend wurde es am Ende des Projektes als Mareike und Rike die Animation schließlich in Venedig auf Originalgröße (7mal größer!) im isländischen Pavilion anlegen konnten. Dort wurde noch etwa einen Monat vor Ort animiert und dabei ständig das Mapping mit Masken an die Projektion mit Beamer auf die hölzerne Grundkonstruktion angepasst.
SOCIAL MEDIA CLIPs

10 Social Media clips produced by Egill Sæbjörnsson and monströös in order to promote the piece in the Icelandic pavilion at the Venice Biennale 2017. They show the trolls Ugh & Booghar as 2D-animated characters in life footage of Venice.

10 Clips zum Ankündigen des Kunstwerkes im isländischen Pavilion auf Social Media Kanälen. Sie zeigen die Trolle Ugh & Booghar als animierte 2D-Charaktere in Realaufnahmen von Venedig, produziert von Egill Sæbjörnsson und monströös.
TECHNIQUE I Technik
digital 2D animation on life video footage of Venice and Iceland
animation by monströös
Sounddesign & life-video-footage by Egill Sæbjörnsson
Courtesy: the artist and i8 gallery